Born Again
Sutton Grange Films' long-lost documentary
Duration: 20:20

Born Again
This is Sutton Grange FIlms' long-lost documentary. Originally filmed on 16mm film in 1998 and 1999 with audio recorded to 1/4 inch tape and DAT. The box containing the sound reels was misplaced by a removalist during a move of office. Despite searching high and low, the audio reels could not be located, so the project was regretfully abandoned.

Perhaps by virtue of a miracle (given the subject matter of the film) the box containing the audio was discovered in 2009 and the film could be completed.

Desmond is a self-styled, evangelistic born again Christian. He's on a single-handed mission to save souls. He eschews any church and his position has made him very isolated in society. What made him like this? What pushed him so forcibly down this path? One never knows another's motivations until you've walked a mile in their shoes.

Original music score by the wonderful J.P. Shilo of Hungry Ghosts and Roland S. Howard fame.
Format: 16mm
Director, Producer: Paul Williams
Location Sound: Paul Williams
Cinematography: Marcus Dineen
Additional camera: Tim Burgin
Lighting and grip: Toby Angwin
Editor: Sioux Currie
Music: J. P. Shilo
Colourist: Vincent Taylor (Raygun Colour)
Negative scan: Chris Button

Back in the day when cassette tapes were all the rage, Desmond would buy tapes that no one wanted, put a piece of sticky tape over its record protection tabs and use them to dub his master tape of free style preaching. The tape here is dubbed over the top of ABC's 1991 album "Abracadabra". As you can see in the film, he would leave these tapes all over Melbourne. Over the years he made tens of thousands of these.

Although the audio quality is poor, here's what one of Desmond's mixed tapes sounded like in its entirety.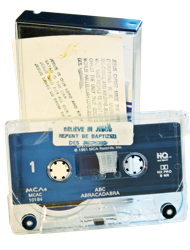 Link

Link

Link

Link

Link

Link

Link

Link