Wardbukkarra: The First Song
Ancient songline reworked for SBS/NITV/Screen Australia
"Songlines On Screen" initiative
Project completed February 2016
First transmission Sunday 3 July 2016 8.30pm


Link

Link

Link

Link

Link

Link

Link

Link

Link

Link

Link

Link

Link

Link

Link

Link

Link

Link

Link

Link

Link

Link
Wardbukkarra: The First Song
How today's Bininj Aboriginal people of central western Arnhem Land discovered music, told through their epic and ancient Dreamtime story of the struggle between good and evil.
Wardbukkarra is a coproduction between Manmoyi Music,
Skinnyfish Music
and Sutton Grange Films. It is a film project that has been produced for Screen Australia's
Songlines On Screen
initiative and was commissioned for broadcast on SBS/NITV. Wardbukkarra was directed by Terra Guymala, a traditional Bininj man. Mark T. Grose produced the film. Paul Williams was the consulting filmmaker. Wardbukkarra was filmed on location in the magnificent rock and escarpment country of central western Arnhem Land. Songlines On Screen is a joint initiative between SBS, NITV and Screen Australia. Further development and production funding was secured from Screen Territory.
Investor: Screen Australia, SBS/NITV, Screen Territory, Manmoyi Music
Director: Terrah Guymala
Producer: Mark T. Grose
Cinematography: Gavin Head
Editor: Sioux Currie
Sound Design and Mix: Marc Judson
Writers: Terrah Guymala & Paul Williams
Running time
: 13 min

Genre
: Documentary short

Rating
: G

Year
: 2015

Language
: English and Bininj Gunwok (Kunwinjku) with English subtitles

Country of Origin
: Australia

Format
: 1920x1080, 25fps, 2.35:1, Sound 5.1 surround

Production Company
: Manmoyi Music, Skinnyfish Music and Sutton Grange Films

Sales / Distribution
: Skinnyfish Music mark@skinnyfishmusic.com.au +61 427 882 599

Development and Production Funding
: Screen Australia Indigenous Department, NITV, Screen Territory

Commissioned by
: NITV

Please wait while the video loads to where you left off.

Terrah & Ross Guymala, Na-yuh-yungki Development

Shelter (Kunwinjku)
Terrah & Ross Guymala, Na-yuh-yungki Development
(Above) "Shelter" one of Terrah's
C.H.O.M.P.S.
series of health-themed short films, short documentaries and music videos. Also Keith Ross and Terrah give an overview of the project we have planned.
Below is Terrah and Paul's original description
of the project to Screen Australia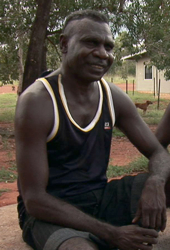 Songlines On Screen: Development
Project Name: Wardbukkarra (formerlyNa-yuh-yungki)
Applicant Organisation: Manmoyi Music
10 April 2014

SONGLINE DESCRIPTION
By Terrah Guymala
as told to Paul Williams


The Na-yuh-yungki songline relates to the first ancestors of the Rock Country of central western Arnhemland. It tells the important story of how us Bininj people who live there now came into existence. It is our most important songline. The songline is in the Kunwinjku language. Na-yuh-yungki is difficult to translate into English. It means "ancestor" and "spirit" or "spirit being" all at the same time. English doesn't have the same word that means Na-nuy-yungki.

Na-yuh-yungki were out first ancestors. They left everything here for us, espcially our songs, clapsticks, digeredoos and our Kunwinjku language too. They left us tools like fire for rejuvenation of land and hunting. When the world changed in the dreamtime, they became the animals that we hunt and have as totems today. So Na-yah-yungki gave us everything.

Na-yuh-yungki is also very important because it tells us how to live and reinforces the right way for Bininj people to behave. There's lots of parts to this cycle, depending on how we're singing it, each of which have their own dance. For example, "Black Wallaroo" (male and female) which is about the animals returning to a cave to wait out the wet season. This is also about Bininj people looking after each other and building strong family relationships. In another example, "Fresh Water Crocodile", big brother is killed by a fresh water crocodile and his younger brother has to wait for the right amount of time until he marries his brother's wife so he can take responsibility for her. So a lot of our Bininj law is written in this song cycle. In a way, parts of this song cycle are like Aesop's Fables - but told from the Bininj perspective.

These stories are a reflection of our lives today too. It's how we should be living. The topography mentioned in these songs is in my country near Manmoyi outstation, central western Arnhemland. We call this Rock Country and we call ourselves Rock People.

The first part of the songline we call Man-larr-konum which means "where it's burning". This is the vantage point where our Na-yuh-yungki (ancestors, spiritual beings) look out over the rock country plateaux; just like we do today. This song starts off song cycles about kun-nang, which means fire or anything regarding fire. The song talks about black smoke. Black smoke or bad smoke is too heavy and can kill everything. It means danger, it means poor burning-off technique. The song also talks about white smoke or good smoke, which means controlled-burning and rejuvination. This song Man-larr-konum sets the scene. It's like the opening chapter. Man-larr-konum also means "I see smoke" but when you say this it means I see the ancestors. All these song are linked together with places and different meanings than just the obvious one. That's why we want Murray Guarde helping us with translation of this songline because he understands Kunwinjku language like a Bininj person and he knows the best way to tell these things in the proper English way.

Fire is very important to us Bininj people. Today we have matches and lighter but the old way was just two sticks rubbed together (please refer to included film "Berribob" where this technique is being taught to Manmoyi children.) We use this fire for everything. Even today, when a baby is born we put paperbark onto the coals of a fire and lay the baby on the paperbark to introduce that baby to fire, that's how important it is to Bininj life. We also use fire in the management of our land with annual controlled burn offs; in the secret initiation ceremonies for men and for women; and as a hunting technique we call "wallaby drive" or "kangaroo drive". When someone dies, we smoke out their house and burn all their possessions so someone else can live in that house and their spirit can be free. The women use fire in their gathering. Fire keeps us warm at night and it lights the way and its smoke keeps the mosquitoes away. I want to show all of these uses of fire.

Then I'm going to say, OK, but how did us Bininj mob get fire in the first place? That's where the next song comes in. Kids love this song because the dance that goes with it is fun.

There was this little Green Bird and this big fresh water Crocodile, but in the Dreamtime they were both men. They were friends these two. Crocodile had fire but the Green Bird didn't. Crocodile knew how to make it with fire sticks but Green Bird didn't have this skill and was secretly very jealous of his clever friend. Now poor Crocodile had lots of lice in his hair and was itchy and irritable and asked his friend Green Bird to kill the lice for him. Green Bird was good at this job so he said OK. Crocodile was holding onto his fire sticks as Green Bird killed the lice and Crocodile got so relaxed he fell asleep. As soon as Crocodile was asleep Green Bird snatched the sticks off him and flew off with the sticks in his tail feathers. Crocodile could no longer make fire so he slid into the water. Now when Crocodile wants to get warm he has to rise to the surface or bask on the bank. That Green Bird, you can still see the fire sticks in his tail today.

So this is how us Bininj got fire and why there's no fire in the water, only on the land. When we sing this you can either dance Green Bird or you dance mojarrki (crocodile).

The next part of this songline is called Na-marn-de. I'm not sure what you call this Na-marn-de in English, something like "devils" I think. Actually we call this Na-marn-de dja Bininj which means "devils and good men" but it also means "devils and blackfellas".

There were these Na-marn-de who were cannibals and in the wet season they lived near a big cave where they would do their ceremony and sleep. The Na-marn-de would hunt Bininj like the Bininj hunted wallaby or barramundi. One of the Na-marn-de captured a Bininj boy who was almost at initiation age. They tied up this young fella and bit his cheek to taste him because they were cannibals. The Na-marn-de got very excited because they thought this young fella was good meat and they planned a huge feast for that night. But the young fella escaped and ran back to the Bininj camp and told his mob what had happened.

The young fella's father got painted up in Bininj camouflage and snuck up on the Na-marn-de camp. The Na-marn-de hadn't noticed that the young fella had escaped and they were all inside the cave singing and playing clap sticks and digeredoo. They were very excited and having a big party getting ready to eat the young fella. The young fella's father was impressed at how good the Na-marn-de were at singing and playing instruments and dancing; he watched them in secret for a while. But this old fella had had enough of the Na-marn-de mob killing the Bininj so he used his power to collapse the cave. All the rocks fell down and killed all of the Na-marn-de inside instantly. After this Bininj didn't have to worry about Na-marn-de again. The old man came back to the Bininj camp and told everyone what had happened. Then he showed them a new way of playing music that he had learned by watching the Na-marn-de.

So what happened was that the music of the Na-marn-de influenced the music of the Bininj. Sometimes we use their song in funeral ceremonies. Thanks to that lucky young fella's father, we have learned how to use something bad in a good way, a proper way. Remember when I said before how this Na-yuh-yungki songline and the stories inside it are a reflection of our lives today too and how they tell us how we should be living. This is an example of what I mean. "Na-marn-de dja Bininj" is about making something good out of something bad. It's a good lesson for the young Bininj kids.

We often do bark and canvas paintings (refer to included photographs for reference) of Na-marn-de dja Bininj and that collapsed cave in the song is in our rock country. We will film part of "Songlines On Screen" at this very important place. We've also been talking about making these painting into an animation.

We also want to do the Na-yuh-yungki song and dance of Emu as part of this film. That's another really good one. Emu dance is a good dance too. We might not have enough time to do everything. We'll have to workshop this around a bit.