Wurray
Ancient songline reworked for SBS/NITV/Screen Australia
"Songlines On Screen" initiative
Project completed June 2015
First transmission Sunday 3 July 2016 8.30pm
Link

Link

Link

Link

Link

Link

Link

Link

Link

Link

Link

Link

Link

Link

Link

Link

Link

Link

Link

Link

Link

Link
Wurray is a film project that has been produced for Screen Australia's
Songlines On Screen
initiative and was commissioned for broadcast on SBS/NITV. It was directed by Keith Lapulung Dhamarrandji, an elder of the
Djambarrpuyngu
clan nation of Yolngu people who live in north east Arnhem Land in the Top End of Australia. Wurray is a co-production between the
Milingimbi Arts and Cultural Centre
and Sutton Grange Films. Paul Williams produced the film.
Wurray was filmed in the Milingimbi and Ramingining communities after an initial development period. Songlines On Screen is a joint initiative between SBS, NITV and Screen Australia. Further development and production funding was secured from Screen Territory.
Director: Keith Lapulung Dhamarrandji
Producer: Paul Williams
Cinematography: Gavin Head
Editor: Sioux Currie
Sound Design and Mix: Marc Judson
Writers: Keith Lapulung Dhamarrandji & Paul Williams

One Sentence Synopsis

Yolngu song men trace the epic dreamtime story of their great nomadic warrior, Wurray, across the wilderness of North East Arnhem Land at the very top-end of Australia.

One Paragraph Synopsis

The songline we're talking about is from the Djambarrpuyngu clan nation, but it's also associated with other clan nations from the Yolngu aboriginal people from north east Arnhem Land in Australia. We call these songs
mokuy
, which means "spirit" or "spiritual being". Wurray is about a spirit, a
mokuy
called Wurray. The film is based on the many great stories associated with this nomadic ancestoral being and creator from the Dreamtime. There's a lot of stories about Wurray. He went on lots of great journeys and discovered so many things. He always starts at sunrise and ends at sunset. Wurray's a journey man and all Yolngu people identify with him. There's no whitefella story that's the equivalent of Wurray that we know about, except maybe
The Odyssey
.
Running time
: 12 min

Genre
: Documentary short

Rating
: G

Year
: 2015

Language
: Djambarrpuyngu with English subtitles

Country of Origin
: Australia

Format
: 1920x1080, 25fps, 2.35:1, Sound 5.1 surround

Production Company
: Sutton Grange Films with Milingimbi Art and Culture Aboriginal Corporation

Sales / Distribution
: Sutton Grange Films, Paul Williams info@sgfilms.com.au +61 412 023 621

Links
: Official website: www.sgfilms.com.au

Development and Production Funding
: Screen Australia Indigenous Department, NITV, Screen Territory

Commissioned by
: NITV

Virtual Press Office
: www.sgfilms.com.au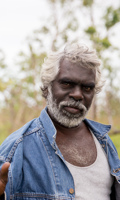 Basically this film is like all the old stories. You know, an old man sitting around the fire that's just embers and he kicks it over with some dry grass and gets it going again and then he gets talking to the young ones telling stories. The
Wurray
film is like that but for the current generation with phones and movies on their phones and YouTube and all that business. I really wanted to tell an ancient story but using modern tools and techniques.
The film's producer Paul Williams and I had a good experience working together on this film
Wurray
. It's funny, before we made the film we were thinking how good it would be to get some money to do this story about the Great Nomadic Person, Wurray, in a proper cultural way with proper bungal (traditional dancing) and manikay (traditional singing) with serious song men and dancers. We were daydreaming about it. In the end we got our chance to do it. I live in Milingimbi and when we filmed the dancing we had about 100 people there. Everyone in the community was excited about the project and we're very proud of what we have achieved. For us
Wurray
is a proper blackfella story told in the proper way. This doesn't get to happen as often as you might reckon so when it does it's a big deal for us Yolngu people.
You're going to love seeing the true essense of the Yolngu spirituality that will come through watching this film and the true feeling us Aboriginal people have for our land and our culture and our ways of looking at things. I always say, "This is how it is, we're not making it up." This story is part of the true essence of this country. Our country. This is part of who we are.
That's what this film is all about and you can read that in that script we wrote and in the final film we produced too. I really hope you enjoy it and think it's a
gumuck
(good) story.

Keith Lapulung Dhamarrandji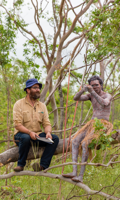 This project finds its origins in an earlier collaboration between Keith Lapulung Dhamarrandji and myself that was called
Dhäwu Wurraypuy
(The Story of Wurray) that was made as part of the Australian Federal Governemnt's
Close The Gap
initiative and produced by Skinnyfish Music and my company Sutton Grange Films as part of a series of 22 health-themed short documentaries, dramas and music video called C.H.O.M.P.S. At the end of
Dhäwu Wurraypuy
Keith was very keen to do another version of the film, this time without being tied to a prescribed "message". He wanted to express things in an unrestrained cultural way. This film is the result of that ambition.
What excites me most about this project is being able to bring a team of film professionals together to help realise Keith's amazing vision for this film to the screen, with exceptional production values. Keith is very inexperienced as a film maker, however, it's undeniable he has a vision and a fantastic storytelling ability. I enjoyed harnessing these natural talents and guiding Keith through the process of making a film from start to finish. It was a great personal thrill to involve large sections of the remote Milingimbi and Ramingining communities in the Top End in this process. The film also presented a unique opportunity for hands-on training in a field community members are deeply interested in.
It's not often when one gets to produce a film that belongs to everybody from the community in which it was made. Wurray is their story so the film belongs to them. DVDs of the film are being sold in the Milingimbi Arts Centre as copies of the film "we" made.
We shot
Wurray
entirely on location around Milingimbi and Ramingining, Northern Territory, Australia at the end of the wet season in April 2015. The film is entirely in Djambarrpuyngu, one of the Yolngu Matha family of aboriginal languages spoken in north east Arnhem Land in Australia. Oh, there's some Djinang language spoken too: a language with less than 300 speakers.

Paul Damien Wlliams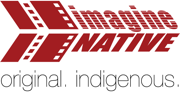 OCTOBER 2015
INTERNATIONAL PREMIER
- Wurray has been invited for its International Premier screening at the 16th Annual imagineNATIVE Film & Media Arts Festival October 14-18, 2015 Toronto, Canada.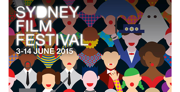 JUNE 2015
SYDNEY FILM FESTIVAL WORLD PREMIER
- Wurray was invited to the Sydney Film Festival for its World Premier along with eight other commissioned Songline On Screen films. The session received a standing ovation. Director Keith Lapulung Dhamarrandji, Cultural Consultant
Joe Djondu Djakala and 5 traditional dancers and singers were flown from Milingimbi to open the premier with a performance of traditional dancing and singing.
Below is Keith and Paul's original description
of the project to Screen Australia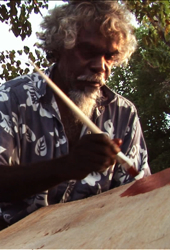 Songlines On Screen: Development
Project Name: Wurray
Applicant Organisation: Milingimbi Arts and Culture Centre
10 April 2014

SONGLINE DESCRIPTION
By Keith Lapulung Dhamarrandji
as told to Paul Williams


Wurray is a Dreamtime character. He is one of our "makers". He's a traveller with an open mind and an open heart to the land. This Yolngu songline reminds me a bit of Greek odysseys. Wurray goes on an odyssey, Yolngu-style. He passes through different terrain and what became different clan's land.

Wurray's journey always begins with the sun rise. The song rises from the ashes like coals brought back to life with dry grass. Wurray leaves his little humpy, takes his spears and set off on his journey. He's walking through low-laying scrub land and is heading towards an outcrop of eucalytus trees in the distance. After this he's travelling through the beginnings of the rocky escarpment country. He starts to see spinifex bushes. Wurray notices everything. This country is more hostile than what he's used to.

Next thing Wurray is spotted by Wäk, the crow. After a while Wurray sees Wäk too. Wurray doesn't know it but Wäk is like his guardian through this unfamiliar country. Wäk flys down and dances for Wurray and Wurray learns the crow's dance and they dance together. Yolngu still dance crow today and we will sing and dance Wäk as part of this film. Wäk flys away and a new chapter begins.

Wurray continues his journey. He emerges towards more solid and rocky escarpment country that falls off to flat plateaux. Wurray wants to make a dilly bag to carry things in so he forages and finds all he needs to make one. It's a particularly good dilly bag and Wurray is very pleased with himself so he starts dancing for joy. This song and dance is called Dimbuka (Dilly bag dance) and this will be part of the film.

Wurray continues walking. He's in open woodlands now. He's got the taste for something sweet so he goes looking for yarrpany (sugarbag or wild bush honey). He finds a hive, scrapes away the bees and eats his fill of honey and puts some more for later wrapped in stringybark into his new dillybag. We dance and sing Yarrpany at this moment. The kids love dancing like bees.

Wurray makes his way down to a low laying area covered with eucalyptus and palm trees. He notices a particular kind of stringbark tree we call balgurr. He cuts some bark off this tree and scrapes the rough parts of it using two smaller trees he has cut down for this purpose. He then mashes the bark between the trees and this makes it nice and soft. Wurray starts to chew this bark mash and the lovely flavour of the sap comes out.

Next Wurray countinues walking. He's spotted by a bird we call Wilata. Wilata is a bit like a woodpecker, I'm not sure what this bird is called in English but I'll find out for later. Wilata dances for Wurray and then they begin dancing Wilata together. This song and dance will be part of the film.

Next thing Wurray sees on his journey is another Balgurr tree. He heads towards it. When he's almost there he spots another kind of tree we call Djalatjala; and there's a string vine we call Malka rakirrirr on this tree. That cheeky bird Wilata is waiting for Wurray here. He's dancing for him on that vine. So Wurray dances Malka rakirrirr together with Wilata. Yolngu dance and sing this still today and this will also be part of the film.

After this, Wäk, the crow protector of Wurray, comes to see him again. They dance Wäk together. They're like old friends now Wäk and Wurray.

The terrain changes again and Wurray is back in rocky country, but it's harsher than before. Wurray is getting cuts on his feet and legs from the flintstones and types of spinifex grass we call nganggu nganggu (razor grass) and burrtjulupa (nail grass). Wurray's getting very thirsty. His lips are very dry and he really wants water. He walks towards a low laying area and collects a type of grass we call läwarr. He mixes läwarr with balgurr from before and a kind of wild grape (wuluymung). This combination has a strong effect on Wurray. He starts speaking in tongues and spitting wildly. His body is over taken and he takes on transformative powers. He's cursing and chanting to try and bring the rain. And the rain comes with thunder and lightning. He looks for a tree with a hump and taps into it. Water starts to flow and Wurray drinks his fill. He is satisfied. Wurray sees a rainbow stretching over the escarpment country. Now you can probably see how powerful Wurray is and the kinds of influence he can have over the environment.

Next Wurray heads down through the open woodlands past the rocky country and arrives at what's now known as Goyder River. Here he bathes in a water hole and cleanses himself. There's lots of vegetation and palm trees all around. It's a beautiful place.

Finally Wurray walks back up to the escarpment country and reaches his final destination. He stands and watches the setting sun. As the sun sinks below the horizon he dances Warrarra or Ganamba (sunset dance).

This journey takes Wurray from what is now called Buckingham Bay to Raymanggirr to Goyder River. That's the songline we're talking about: the great nomadic warrior of the Dreamtime called Wurray.